The book
Description
From text files over presentations to blogs, it can all be done using mostly Markdown. And it is easy, too!
This book introduces the reader to the Markdown syntax, teaches a few tricks on output styling and explains the various tools and frameworks that support Markdown.
All this is done using an imaginary monitoring tool called "GoodTool", which - by the end of the book - has a README file, a website, a blog, a wiki and much more. It is the common theme helping the reader understand the different use cases.
Finally, the book ends in a chapter explaining the "Making Of Markdown By Example" - yes, this book is not only about Markdown, it was also written in Markdown!
Availability
ebook (PDF, epub, mobi)
All future updates are free

Print
(5.5 x 8" paperback)
First edition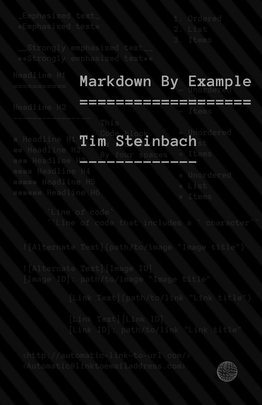 Markdown By Example
Price: $12.99 $11.69 (10% off)
The wiki
As part of the book, there is a Markdown wiki, which includes a full reference of tools used throughout the book as well as a subset of Markdown syntax instructions.
The repository
This is the compantion repository for the book Markdown By Example.
Build script
The file build_examples.sh builds all Markdown examples into HTML files or their respective output formats.
Folders
_extra Additional examples
_misc Code snippets from all chapters, Footnotes
_sample Markdown for sample eBook
blog Chapter 11: Blogs
book Chapter 20: Books
documentation Chapter 14: Documentation
html_css Chapter 9: Markdown with HTML and CSS
readme Chapter 7: Simple text
readme_landslide Chapter 13: Presentations with alternative frameworks
readme_markdownpresenter Chapter 13: Presentations with alternative frameworks
readme_mdpress Chapter 13: Presentations with alternative frameworks
readme_preso Chapter 12: Presentations with ShowOff
scalaslide Chapter 13: Presentations with alternative frameworks
website Chapter 10: Websites
wiki Chapter 17: Wikis